How To Make A Sock Narwhal
I don`t know why, but my kids really adore sea animals. If you are in the same situation with your littles or you just have a pair of unnecessary socks, join this easy tutorial. We`re going to make a narwhal! This wonderful animal lives under sea ice for up to 5 months and can even dive down 1 mile deep! As it grows, it changes the colour of its skin. What an amazing animal! Let`s sew it together)
Things you need:
Sock; White Denim color, cotton, adult size, 1 pc.
Sock scrap or knit fabric; stripe, rainbow color.
Button eye 8mm dome-shaped, black, 2; or equivalent button
Crochet lace thread or Embroidery floss, yellow
Poly-fill stuffing material
Sewing threads (matching colors)
Sock Narwhal template
Sewing machine or, you can hand-sew without a machine
Long Sewing Needle (about 2"), tapestry needle and pins
Water Soluble Fabric Marker
Scissors
Blunt point tweezers or an awl
Printer and letter size cardstock
Spray bottle filled with water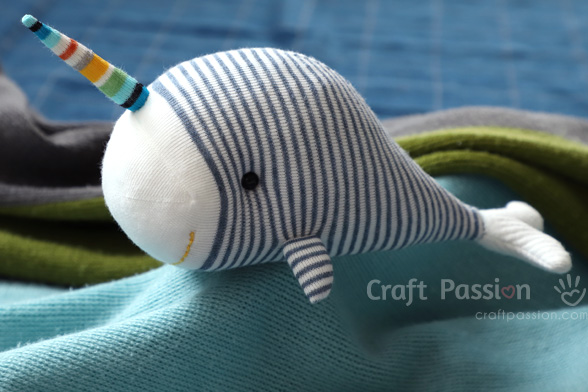 Step 1.
Prepare all materials above. Always pre-washed your socks before sewing them.Download and print out the Sock Narwhal template on a letter-size cardstock. Cut out the paper templates from the cardstock.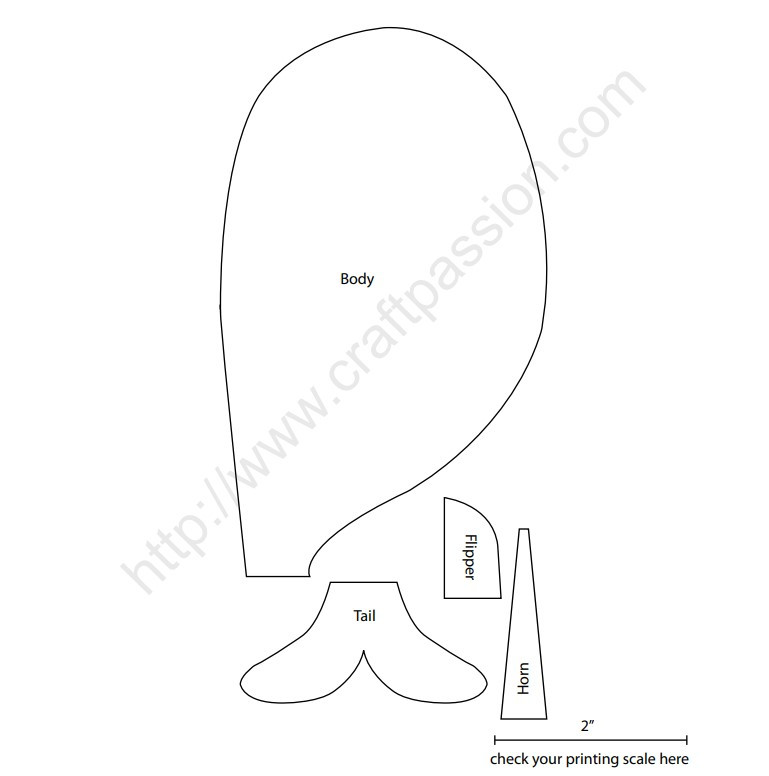 Step 2.
In this tutorial, we are showing the method of using an ankle-length sock to sew the sock narwhal, however, you can always use socks of crew length to sew.Remove the stitches at the ribbing area of the ankle sock and release the folded cuff.Turn the sock inside out, flatten and lay the sock as shown in the picture, align the stripes pattern so that they are symmetrical in both top and bottom layers. Pin.Trace the templates on the sock as shown in the picture with a water-soluble fabric marker. Since not all socks are made of the same size, you will need to adjust and hand sketch the template on the sock if necessary.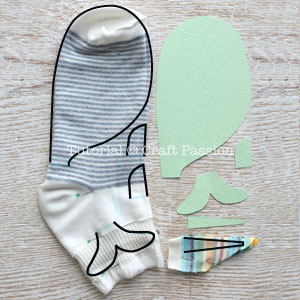 Step 3.
Sew on the traced line with either using a sewing machine or hand stitch.Cut out the sock pieces with approx. 1/8″ – 1/4″ seam allowance.
Step 4.
Stuff the pieces with adequate poly-fill stuffing material, massage and shape it nicely. Take note that the head of the Sock Narwhal is round.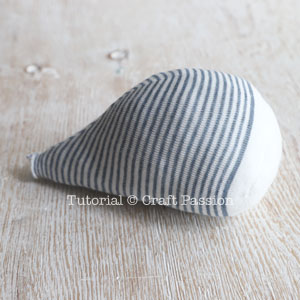 Step 5.
Top view of all the parts after stuffed with the filling material, massaged, and shaped.It is easier to use sock's material or knit fabric for the unicorn horn due to its long and narrow shape. However, stuffing could be challenging to retain the uniformity, so make sure to stuff it bit by bit and give it a good massage to prevent the lumpy bumpy appearance.A pair of blunt point tweezers will be of good help to insert the stuffing material into smaller parts like the tail, fins, and horn.