How To Make Useful Oilcloth Bowl Covers
To be eco-friendly is very popular today. To use reusable things is the new trend of our days. So we`re going to make reusable oilcloth bowl covers. They`re waterproof and fit different sizes. With your new bowl covers you`ll forget about saran wrap!
Let`s get started!
Things you need:
bowls
oilcloth or laminate fabric
1/4 inch elastic
double fold bias tape
small safety pin
scissors
needle and thread
ruler
measuring tape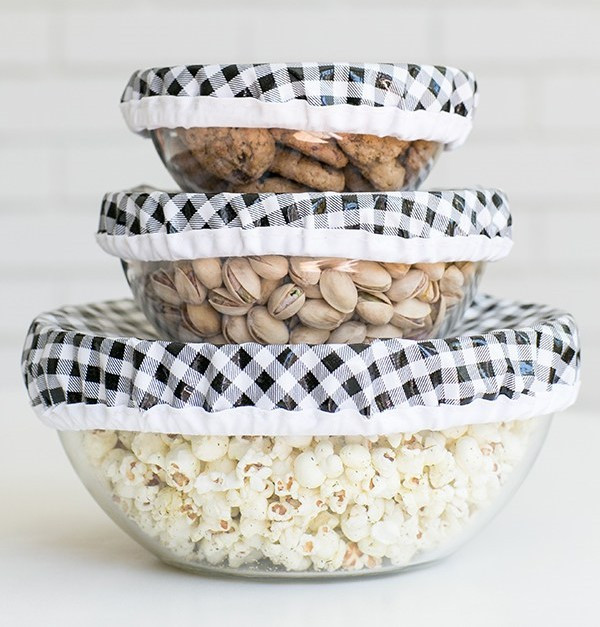 Step 1.
Place your bowl on the unfinished side of the oilcloth and trace around it lightly with a pen.
Step 2.
Using a ruler, measure 1 inch larger than the bowl. We did this by making small marks every couple inches and then connecting the dots.
Step 3.
Cut around this line. Take the bias tape and position it so the oilcloth is in the middle and there's about 1/4'' along the edge. That's where the elastic will eventually go.
Step 4.
Sew the bias tape onto the oilcloth, making sure to leave an opening of about 2 inches on one side.
Step 5.
Measure around the top of the glass bowl where the cover will sit. Subtract 2 inches from that number and cut the elastic to that size.
Step 6.
Pin the safety pin to one end of the elastic and work the pin and elastic inside the bias tape, all around the cover.
Step 7.
When you get to the opening on the other side, sew the two sides of the elastic together.
Step 8.
Sew the remaining section of the bias tape and put the cover on your bowl!